Snapchat is a rapidly growing social networking platform, especially among the youth. The most attractive feature is that you can share every moment with your family and friends using photos and video clips. Moreover, it will delete your messages later automatically.
However, there are questions surrounding this social channel, such as how to upload long videos to Snapchat . If you have a great video and want to send it via Snapchat, taking a clip directly from your video and sending it can be challenging. Don't worry! Here is a step by step guide to do it quickly.

Part 1: What you can upload to Snapchat
By default, you can share a 10-second video clip on Snapchat. Now, you can record up to a full minute of video at a time. However, Snapchat will split the video into 10 seconds on upload. However, the video post should not be larger than 2.5MB.
Part 2: How to upload saved videos on Snapchat
If you have already captured a video clip that complies with Snapchat's policy, you can upload the saved video by following the steps below.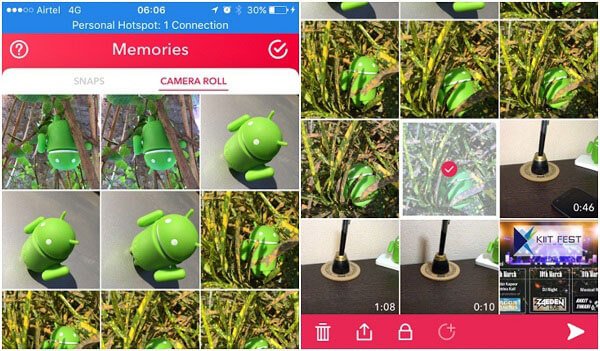 Step 1. Open your Snapchat app and enter your username and password.
Step 2. Swipe up on the home screen to display Screen Memories
Step 3. Then you will be presented with two tabs, Snaps , Camera List . The one on the left will take you to the snapshot screen and the one on the right will open the camera roll. To upload saved videos to Snapchat, select Camera Roll.
Step 4. Tap on the video clip you want to upload and tap on the Share Icon at the bottom of the screen to upload it to Snapchat.
Note: If you try to upload a saved video that is longer than 10 seconds, Snapchat will not respond to your request. Therefore, you need to make sure that your video clip is 10 seconds or less.
Part 3: How to upload a long video to Snapchat
If you intend to upload a video longer than 10 seconds to Snapchat, you must produce the video within the Snapchat app. The feature called Multi-Snap in the Snapchat app allows you to take a video up to one minute long and upload the clips at the same time.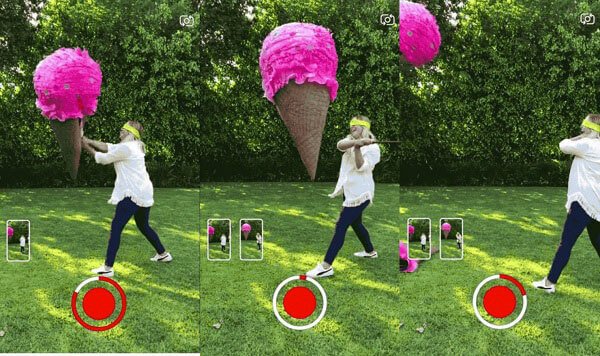 Step 1 . Update your Snapchat app to the latest version and open it.
Step 2 . Press and hold the Record button round to begin capturing a video snap.
Step 3 . Once the snap reaches 10 seconds, continue to press the Record Button to continue capturing.
Step 4 . When you have finished recording, you will be presented with the Preview screen. Snapchat can split the video into 10 seconds automatically.
Step 5 . Now, you can decorate snaps with stickers, emoji or remove unwanted ones. Note that the effect will be applied to each snap in the sequence.
Step 6 . If you're ready, just tap on the blue Share Icon to get it done.
Part : FAQ About Uploading Videos on Snapchat
Can I send videos longer than 1 minute on Snapchat?
Snapchat allows you to upload a single video up to 60 seconds long, but you can record and send as many videos as you want in a row.
Can I upload to Snapchat from gallery or camera reel?
Yes, you can upload images from your gallery or camera roll to Snapchat. Just go to your gallery or camera roll and select the image. Then tap on the share icon and select Snapchat.
Why won't my Snapchat load?
It may be caused by the network. If you don't have the connection problem, it may be with Snapchat itself. You can try to update it to the latest version and restart the app again.
Conclusion
Now, you need to understand how to upload a long video or saved video on Snapchat. Now, Snapchat has introduced the Multi-Snap feature to the app, so you can use it to share a video for up to one minute at a time. Besides, we also share Apeaksoft Video Converter Ultimate to help you compress video for uploading to Snapchat.